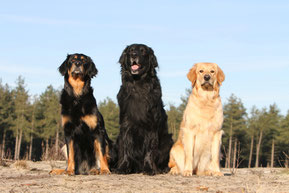 (photo by Vanessa Grossemy  , my dear Dante in the middle)

                                        de hovawart in de drie kleurvarieteiten : zwartblond/zwart/blond
                              the three colourvarieties of the hovawart : black&tan,/black/blond
De hovawart is een erg 'natuurlijk' ras. Dat is een van de redenen waarom ik er mijn hart zo aan heb verknocht. Geen excessen, een lichaam in balans en intelligent, met een uitzonderlijk goede neus
Alhoewel de FCI rasstandaard een duidelijke beschrijving geeft, zeg maar van snuit tot staart, bestaat er een opmerkelijk grote verscheidenheid van types : qua grootte, kleur, vachtstructuur, de vorm van het hoofd, de expressie...
Het verschil tussen bvb een klein teefje van 58 cm  en een grote reu van 73 cm schofthoogte is behoorlijk opvallend.
Een hovawart is niet van het slaafse type. Mede door zijn intelligentie slaagt hij er vaak snel in JOU te trainen, nog voor je het zelf goed door hebt. Geen goede zaak, want hij heeft een natuurlijke aanleg tot waken!
Zijn opvoeding is daarom meestal een hele uitdaging.
Zoek je een hond met een grote will to please, ben je met hem niet aan het goede adres. Hij heeft de juiste motivatie nodig om voor je aan het werk te gaan en houdt absoluut niet van herhaling, want dan gaat gauw de verveling toeslaan.  Doet je hovawart het minder goed op de hondenschool? Twijfel dan niet aan zijn intelligentie, ik zou bijna zeggen integendeel, maar ga vooral goed nadenken over je eigen aanpak of die van je trainer!
The hovawart is a very 'natural' breed. This is one of the reasons why I 'm so fond of it. No excesses , intelligent, well balanced anatomy and an excellent nose.
Although the FCI nomenclature gives a clear description from nose to tail, there is an interesting diversity of types of hovawarts : colour, build, coat, head, expression, .... Note the huge difference between a smaller female of 58cm and a tall male of 73cm !
THe hovawart does not have the strongest 'will to please'. Beware he doesn't train YOU, before you even realise : he really is as clever as that!
You really don't want that, as he has strong guarding genes!  You will understand the challenge in educating a hovawart...
So, if it is this will to please you are looking for in a dog, he is not the right choice for you.  He needs  motivation to work for you and repetition will tend to bore him very quickly.
Is your hovawart not the best performer in dogtrainingclasses? Never doubt his intelligence, rather start thinking of how to get him motivated or look for a better trainer.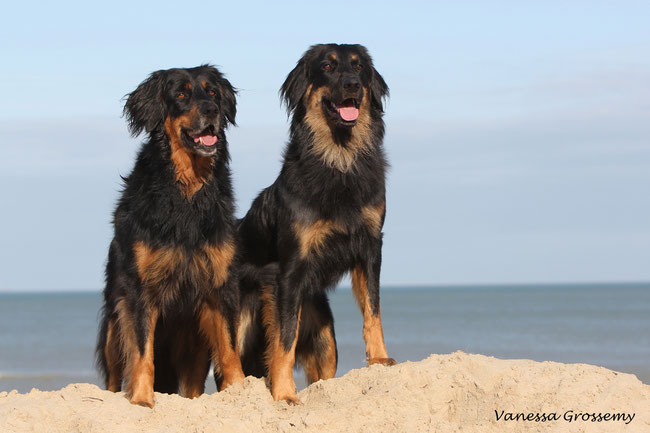 oma Belle en Hannah , oktober 2020 aan zee
Een hovawart is zeker geen kennelhond, hij wil liefst zo dicht mogelijk bij zijn familie leven. Hij heeft een grote behoefte aan activiteit en spel, maar kan in huis de rust zelve zijn. Hij is lang "jong" en in mijn ervaring vaak "eeuwig jong". Het is heel belangrijk dat je met hem aan het werk gaat.  Hij is zo veelzijdig dat je elke hondensport met hem kan beoefenen en  hij is dol op wandelen , spelen, speuren...
Het houdt hem bezig, onderhoudt zijn conditie en die van jou, draagt bij in het geheel van zijn opvoeding  en de samenwerking- maar zeker ook veel spelen samen-  versterkt je band met hem.
Echter:  de RUST die je hem geeft is even belangrijk.
Vergeet ook niet dat als hij even 'niets te doen heeft' , hij wel voor je aan het waken is! Na een lange werkdag, wil je zelf toch ook graag wat uitrusten?
Lichaam en geest in balans !
A hovawart likes being close to the people he loves. , to  be really part of the family. He has a strong need for activity and loves to play,.  He is not the nervous type, so if there is nothing to be done every once in a while, he will patiently wait for his turn and "rest", though keeping an eye on what's going on around ...  ofcource!
He  slowly matures and some of the hovawarts tend to stay forever young.
So please do canine sports or fun-activities together, he is very versatile so you have plenty of choices . He loves to be out no matter what time of the year or day, loves to walk, play, track,...
It 'll keep him busy, is good for his and your workout, is an important part in his education and your bonding will benefit from this cooperation.
BUT : he also needs to be able to really sleep and REST. Never forget that he is always on guard, even when you think he's doing 'nothing'.  After a long day at the office, do'nt you want a rest yourself?
Body and mind in perfect harmony!