Kaelynn is op 5 maart bevallen van 9 prachtige pups  (nieuws)
Kaelynn  has given birth to 9 puppies on 5th March 2019 (news)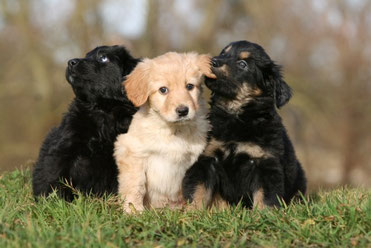 PHOTO Vanessa Grossemy :
Dante's puppies 2008 : H litter Van het Stropersbos : Dante x Dinah Von Gaudihof
Een hovawart blijft relatief lang "jong". Volgens mij zijn de teefjes om die reden voor de leeftijd van 2,5  jaar vaak mentaal nog niet echt klaar voor het moederschap.
Terwijl Belle  stilletjesaan meer "volwassen" werd, waren wij op al op zoek naar de geschikte loverboy. Gezondheid en stabiel karakter zijn een vereiste, verder mag hij mooi zijn en liefst met een hoog knuffelgehalte en een dosis temperament, zoals de meeste hovawarten, maar ook vooral een gentleman voor ons meisje.
Dochter Kaelynn heeft ons 9 prachtige 'kleinkinderen' gegeven in maart 2019.  Wat verder weg van huis zal werd ook zoon Jack papa van 7 prachtige pups in 2017. (Blijf op de hoogte via hun eigen pagina).
Straks verwelkom ik de kleindochter van Belle, die ons jammer genoeg (na haar sterilisatie om medische redenen) geen pups meer kan schenken. Over toekomstige nestjes houden we jullie op de hoogte, maar eerst moet onze pup zelf volwassen worden.
Belle's operatie is een succes geweest. Tot op heden is zij kerngezond gebleven, we genieten elke dag van elkaar. 
A hovawart slowly matures. I feel that before the age of 2,5y  they are often mentally not really ready for motherhood. While we were patiently  waiting for Belle to become more mature,  we had allready been looking for the perfect loverboy. Health and  a well balanced character are a must, he may be goodlooking and with temperament too and above all a gentleman for our girl.
Future litters might have to wait for a while, as Belle was sterilised (for medical reasons). So we need to look for a new future mom.
Jack's beuatifull litter in 2017 was born across the ocean.
In March 2019 Kaelynn gave us 'grandchildren' closer to home.  We will offcource keep you informed (see their page) and we will soon welcome one of her daughters to be our new compaion. for life
Right now my complete attention goes to my beloved girl, who is strong and healthy after a successful operation, hoping to have her with me as long as possible , enjoying each other's company and having fun.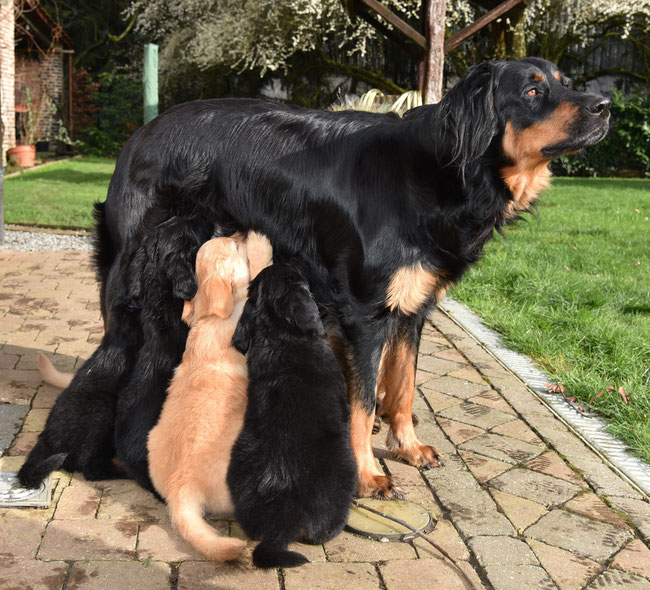 Belle is een hond met een zeer natuurlijke aard. Wat ze toont is hoe ze is. 
Met dezelfde natuurlijke flair beleefde ze het moederschap.
Belle is a very natural and instinctive type of dog. What you see is what you get. With the same natural flair she went through motherhood.