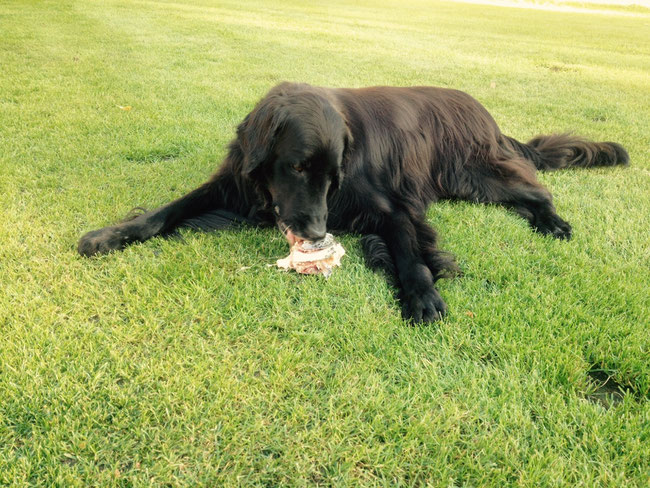 Iedereen wil het beste voor zijn hond en daarbij hoort ook kwaliteitsvoer.
Welke voeding de beste keuze is, daarover verschillen de meningen nogal.
De meerderheid houdt het bij commerciële brokken. Handig, gemakkelijk te doseren, meestal goed gesmaakt door de hond. Als je je je goed informeert, kan je de betere  en de minder kwalitatieve onderscheiden. De keuze is enorm.
Omdat ik overtuigd ben dat een hond nog steeds en vooral een carnivoor is, ben ik een groot voorstander van het voeren van vers vlees en vis. Mijn honden doen het al jaren goed op vers en ze genieten van hun maaltijden.  Het zijn meestal niet de kant en klare diepvriesworsten met gemalen 'compleet' versvoer,  maar een variatie van ongemalen vlees, bot, orgaan en vis.
Ze vullen niet alleen hun maag (hoeveelheid vers kan tot het dubbele van hoeveelheid brok zijn), maar voelen zich voldaan na het heerlijk scheuren en kauwen., wat dan ook nog eens tegelijk de tanden poetst en flosht!
De brokmaaltijd  daarentegen wordt meestal snel naar binnen  geschrokt en laat nog vaak een onvoldaan hongergevoel na.
Bovendien bewijst minder poep achteraf dat de versvoeding ook beter wordt opgenomen. In heel wat brokken zit een grote hoeveelheid granen, een goedkoop 'vulmiddel' dat echter weinig voedzaam is voor de hond en daardoor voor meer afval zorgt.
Aan versvoer worden geen smaakstoffen nog bewaarmiddelen toegevoegd. Het bestaat voor een groot deel uit water en daardoor drinken de honden veel minder uit de bak.. Is er bij ons thuis  toch een dagje brok omdat het even snel moet gaan, of uit gemak wegens op vakantie, moet de drinkbak vaak gevuld.
Enfin, de voordelen zijn legio. Daarom wil ik de pups ook het plezier en al het goede van vers voeren bieden. Heel graag begeleid ik de nieuwe eigenaars in hun zoektocht naar het beste voer.
Don't we all want the best for our doggies and that includes the best food.
There are as many different opinions about which is the best food, as there are commercial dogfoodbrands.
Most of us stick to the handy kibble and most dogs like it. Behind all this is a big marketting machine and an industry that knows which tastes dogs prefer.
As for me, I 'm totally in favour of composing my dogs' own meals with fresh meat and fish, simply because I believe a dog is still above all a carnivor.  No conservatives, no colourings, no cheap fillers like grains.  Over the past years it has become a natural thing to do and my dogs love it. Look at their appearances, their health, their energy, (even their faeces) : do I have to add more?
When you are used to take the portions out of the freezer (instead of a bowl of kibble out of the sack, it's simply as easy as that!) , you will find there are a lot of advantages. Dogs like chewing and besides merely killing their hunger they will also become mentally satisfied after eating.
  They clean their teeth while tearing apart larger pieces. They can eat more ,  as meat contains more water. That is why they are less thirsty as when eating kibble.. It always strikes me to see the waterbowl being empty after a kibble day, on holidays or if I forgot to take the meat out of the freezer in time. 
To be clear,  I am not talking about the commercial frozen meat either : the 'sausages' filled with ready to eat minced meat/bone/vegetable/fish etc.  Though handy every once in a while,  still much more expensive.
Because of all the advantages I can't wait to see the growing puppies enjoy eating the meaty bones as well.  I will gladly support the new owners in their search for the best dogfood.
Het is belangrijk te weten dat grote rassen best traag groeien, dat is beter voor hun botten. Speciaal pupvoer is daarom niet altijd goed, dat doet hen net sneller groeien.  Op vlees gaan jonge honden minder snel, dus gebalanceerder  groeien.
Ook dien je er op toe te zien dat de botten niet overbelast worden, door te lange wandelingen of bruuske bewegingen. Ga beter vaak korte wandelingen maken dan één lange  en bouw langzaam op.
Een goed fokker heeft oog voor de HD belasting bij de ouderdieren, maar het genetische aspect is maar 1 factor. Slechte heupen zijn vaker het gevolg van verkeerd bewegen bij jonge honden en of een minder goede voeding.

Voor een hovawart betekent dat dat je de eerste 15 maanden goed moet opletten totdat de groeischijven in de gewrichten gesloten zijn.

Large breeds need to grow slowly, it is much better for their bone. Commercial food for puppies is often not good as it makes them grow faster.  On meat the young dogs grow less fast, more balanced.

You should also be carefull not to have your young dog make certain sudden movements and come down hard on the floor ( like when chasing a bouncing ball or running down from starrs. Better walk more often short distances than make one long walk, build it up slowly.

A good breeder selects dogs with good hips , but the genetic impact is not as big as some people think it is.

Bad hips are more often the result of lesser quality food or wrong movement/overload.

For our hovawarts this means that we need to take special care of their bones the first 15 months untill the growth plates in the joints are closed.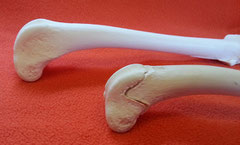 Foto : op de voorgrond een dijbeen van een jonge hond, je ziet duidelijk dat de groeischijf nog niet gesloten is. Op de achtergrond het dijbeen van een volwassen hond.

Photo : in the front a thighbone of a young dog , growth plate is not yet closed. In the back a thighbone of an adult dog.